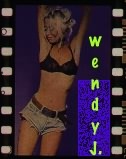 Wendy James, was always a controversial figure, she slagged off other female pop stars and her controversial views were gleefully pounced upon by the press. I always found it intensly annoying that her views were constantly analised.
She also has her serious side however,
"If I said something four years ago that I contradict now, then people should be glad I'm re-examining it."
The outfits she wore were pretty revealing in the early days, Wendy was never ashamed to show that she was a woman, she later adopted more formal men's suits.
"I'm just a young woman who is proud to be a woman, and for other women to hate me for it is just sad"