Matraca Berg.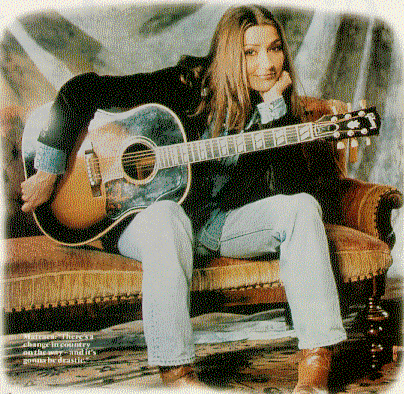 Visit the definitive Matraca site: Matraca.com
Matraca is one of my favorite singers, and as a songwriter she is just massive. Her songs have been sung by the likes of Trisha Yearwood and Chely Wright.

Article: Mojo magazine.
"Yes" she says, quite firmly. "Nashville is still full of songwriters, same as it ever was. Hey I got a question for you, It's a Nashville joke. How do you get a songwriter off your porch? You pay for the pizza! Ha Ha Haarrgghh"
A laugh of delightful bulk and volume erupts from the petite frame of Matraca Berg, sufficient to ruffle the hush of this pretencious London hotel. "And I know all about it," she adds. "Hey I made pizzas too."
She can afford to be nostalgic these days. Matraca ("Muh-trace-her") Berg is currently the hottest songwriter in country music, and becoming a star performer in her own right. Born and bred in Nashville, Berg may soon her home town's elite. And if she does, her revenge will be sweeter than pecan pie.
Like her friend Gretchen Peters, Berg leads a wave of women writers who unite the disparate traditions of Emmylou Harris and Dolly Parton: movingly confessional in one breath, shrewdly humourous, wickedly perceptive comentators the next. At 34 she is young enough to understand MTV culture, but old enough to recall a time when country was imbued with a working-class glamour, rather than ruled by know-nothing radio programmers. "we're losing listeners," she says, "because country music has become so homogenised. Radio is interested in what their consultants tell them to play, and it's a small list; usually songs that sound like commercials. But there is a subtle change on the way and in five years it's gonna be drastic."
Raised by her mother, a Nashville session singer, Berg has gatecrashed the Music Row scence by co-writing a Number 1 hit (Faking Love) at 18. The early success nearly ruined her: "people figured I was a child prodigy and came to me for songs. But I had nothing, so I froze up- like a deer in the headlights. I ran away with a musician to Louisiana." The elopement was a disaster, and she returned to her mother with a stock of experience that has fed her songwriting ever since. Her next break was a backing singer's gig with Neil Young: He was in Nashville recording Old Ways.

The first song I'd ever learned on guitar was Heart of Gold. But we were doing a rehearsal one day and they were doing Helpless, and I could not bring it to my brain. So I raised my hand and said could you play a few bars of that, so I'll know what to do? He looked at somebody and said, "Who brought this kid in here?" I wanted to die. Still, he took me on the road. I did Live Aid. I was the 20yr old girl on his right, shaking like a leaf."
Soon Matraca was writing hit material for the likes of Reba McEntire, and made a 1990 debut herself, signed to RCA Nashville for a superb album called lying to the moon, including a title track and one other, You are the storm, that are slowly getting recognised as classics. Despite the chorus of critical acclaim, she says, the album only did well in US 'Yard sales'-equivalent to our car-boot affairs. A follow up record was banned by RCA altogether. the company transferred her to their pop department in Los Angeles, where she made an album, The Speed of Grace, that she hates: "They wanted me to be whatever chick was happening at the time, a rock chick." She left RCA, and survived by selling her songs to other singers: "Nobody would sign me in Nashville. I just said, Screw it, I'll pitch my songs instead of singing them myself. And they all got covered."
She wrote country hits for Pam Tillis (Calico Plains), Trisha Yearwood (XXX's & OOO's) and Patty Loveless (You can feel bad) to name a few. Deanna Carter's colossal debut, Strawberry Wine, has won awards, to it's author's bemusement: "A five minute waltz about losing your virginity is not my idea of a first single. Deana's obviously smarter than all of us."
Nowadays married to Jeff Hanna of the Nitty Gritty Dirt Band, and newly signed to the Rising Tide label, she has made an album that is just as good as her first. As the country world awakens to the star it has overlooked, Matraca Berg allows herself a smile of satisfaction. "I guess," she concludes, "they can call me The Artist Formerly Known As Songwriter."
Why not join me and other fans at the Matraca mailing list at onelist.com
---
Country Vibes maintained by Marc Duggan.



Updated 16th Feb. 1999.
---